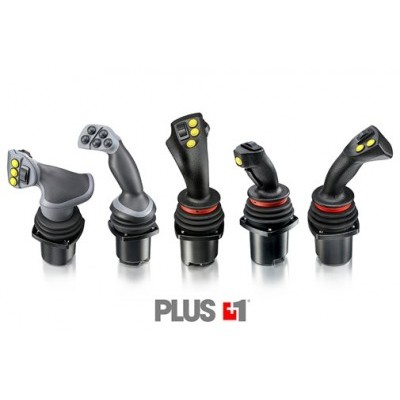 Heavy-duty joysticks
Features
Rugged design up to IP66 overall
Ergonomic left, right and straight grips
Single and dual axis spring-return
Single axis w/ adjust. Friction-hold
Redundant hall effect or long-life potentiometric sensing (full redundant)
5 different output types: CAN (J1939, CANopen), CAN+ and CANalog PVE and Analog, PWM
5 different grip types: ST2- ST7- PR2- PR7*)- and HR1-grip
Several grip functions: domed and flat push-button (max. 12), proportional roller, rocker switch and FNR, operator presence switch
Connection: wiring harness with connector
Grip travel :+18°
EMI/RFI: 150V/m
ESD: 20kV
Benefits
Customizable solutions The JS1-H base and grip options allow you to fulfill specific customer requirements for a smooth, comfortable and reliable operation. Choose from three bases and five ergonomic grip types with flexible button and switch placement.
Smart compatibility Compatible grip and base options make joysticks simple to upgrade. Six standard electrical interfaces are available for ease of configuration.
Superior performance The JS1-H family is suitable for almost any machine that requires joystick control. PLUS+1 Compliance enables simple and seamless future-oriented integration in the machine control system.
Faster, more flexible fulfillment times The JS1-H standard portfolio is readily available, enabling you to reduce your warehouse stocks. Even without compromising your ability to fulfill the specifications of individual customers. Easy integration with PLUS+1 also secures fast and efficient development times.
Product Specification Documents
Get a quote
Can't find what you're looking for?